"Life is not being, it is becoming."...
Jun 07, 2019
In the future, I will be reflecting on places I have been, places which were a feast for my eyes, and places I have painted. However, for this first post, I wanted to introduce someone very dear to me who was my enthusiastic traveling buddy for almost 40 years, and my most ardent supporter in my dream of becoming a professional artist…my husband, Jim. Road trips around Texas and to New Mexico, Colorado and points West were our first travels, and we expanded our horizons to include other areas of the country, and then, Europe, especially Italy.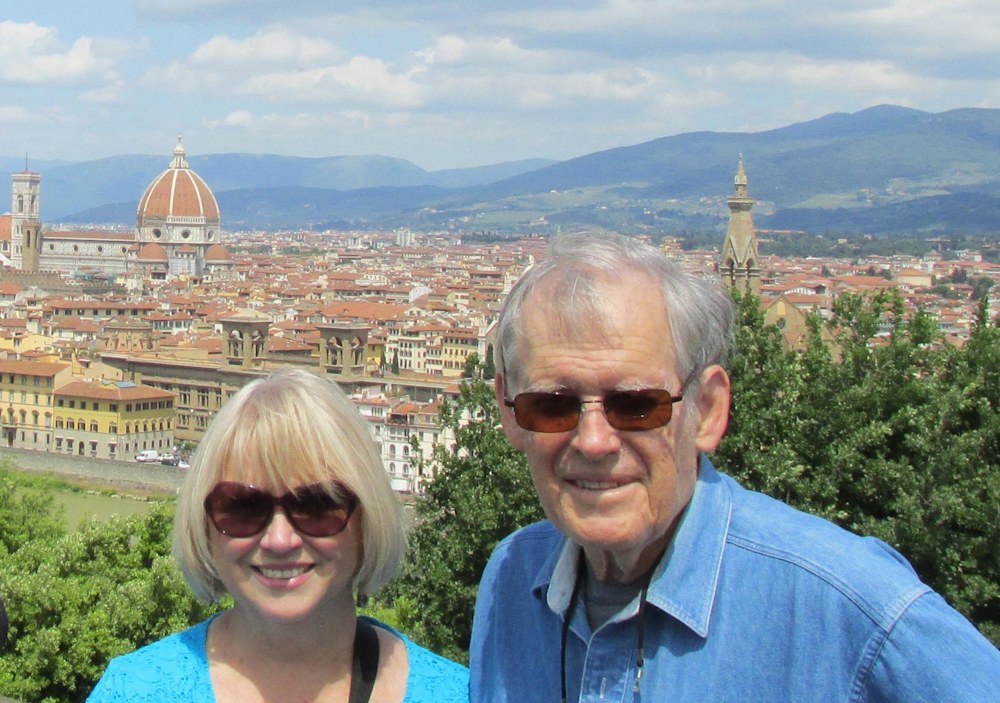 In the early years, we would head out in his 1967 Camaro convertible, top down, radio blaring, from our home in Austin to charming small towns in our beloved Texas Hill Country, his hometown of Caldwell, the Gulf Coast and other places in our home state Often if schedules didn't permit a trip, we would just ride around Lake Travis to watch a sunset over the water.
Jim worked in the Texas State Capitol his entire career, most of it at the Legislative Budget Board, serving as Director the last 12 years. After the bell would ring on Memorial Day somewhere around midnight ending a biennial session of the Legislature, we would pack our bags as soon as we could, and hit the road to New Mexico, sometimes including Colorado, to escape the chaos and stress of the preceding months—no cell phones and no pagers to interrupt the quiet. By this time, we had a collection of self-recorded audio cassettes, and Willie Nelson would likely kick off our trip with "On the Road Again", followed shortly by "Do You Know the Way to San Jose", which we paraphrased "Do You Know the Way to Santa Fe"…one of our favorite destinations. Music was always a big part of the journey, and we had traditions…playing Waylon Jennings as we whizzed through his hometown of Littlefield, Texas, and John Denver's "Rocky Mountain High" when we crossed over into Colorado, usually singing backup for our favorites. We made that road trip 70 times from Austin…a little over 700 miles each way, so, yes, we do know the way to Santa Fe!
After Jim introduced me to Northern New Mexico, it was in Santa Fe and Taos where I caught the "painting bug". From an early age, I had dabbled in art, taking a few classes once in a while and painting a few paintings, then putting the paints away for several years before I picked up a brush again. I had always dreamed of learning more and painting consistently. I fell in love with the work of the impressionists of that area. Fortunately, I was able to learn from some of the best of them…Ray Vinella, Kevin Macpherson, Don Ward, and Ron Rencher. I never dreamed from those first feeble attempts that my work would be represented in fine galleries in those two artist colonies, as well as in others around the country. But I focused on "becoming" instead of "being", and I have loved the road I've been traveling. Jim was always there encouraging me when I was frustrated or disappointed, celebrating when I succeeded, and loving me all the time. I think he may have enjoyed my art career even more than I have.
After his retirement as Director of the Texas Legislative Budget Board, he proudly proclaimed himself "Vice President for Totin' and Haulin'" for my art business. He was an expert at packing our van to the max with paintings, display panels, lamps, suitcases, and whatever else we needed to set up for art festivals or to take new work to galleries across the country in Santa Fe, Taos, and Ruidoso in New Mexico, Sedona in Arizona, and Vail and Colorado Springs, Colorado, to name a few. He framed many a painting, and boxed them up to be sent to collectors or galleries. Meeting new people in the art world and seeing new places were a joy for both of us. Collectors, artists, and gallery owners have become good friends.
In celebration of our 20th anniversary in 2000, we crossed the Atlantic to Italy, and fell in love with that fascinating country—the people, the culture, the history, the beauty, the wine, the food…and of course, the incredible art. Trips to other European countries followed, and we loved them all, but Italy always called us to return. In 2003 I was invited to exhibit paintings in the Biennale in Florence, and we were thrilled to have paintings shown in the city of Michelangelo, DaVinci, Botticelli, and other masters, and ecstatic to be able to spend two weeks there.
After a trip to France in 2010, Jim began exhibiting symptoms of a rare and brutal neurodegenerative disease, multiple systems atrophy, making walking and speaking very difficult for him, and in the last months impossible. When the diagnosis was finally given in 2011 and the unwelcome report that there was no cure and no effective treatment, Jim declared that he wasn't going to spend what time he had left in the offices of doctors who would apologetically tell him they couldn't help him…he wanted to travel for as long as he was able. In a little over four years, we hit the road and airways to Europe twice, once with a wheelchair and the other with his scooter, to Nova Scotia, to Maine and New England three times, the Oregon Coast twice, a four-week road trip all the way to Montana and North Dakota, Omaha to see his Texas Longhorns play in the College World Series, and seven other road trips to New Mexico and Colorado! Whew! Seventeen trips from July 2011 to October 2015…about 52 months! With the three parts of any trip…the planning, the trip itself, and the memories…we managed to fill a very heartbreaking time in our lives with pleasure, adventure and excitement. I am so thankful to Jim for having the courage and wisdom to live every day with a grateful and loving spirit, under circumstances which were at best frustrating and at worst robbed him of his dignity.
On November 1, 2016, I said goodbye to my sweetheart and my biggest fan. I am so glad he is no longer suffering, and there will always be an empty seat in the car or on the plane, but I feel strongly that he is riding shotgun, leading and guiding me as I continue to do what we loved so much. Sharing this road with him has made the journey from "becoming" to "being" so exciting. Since I'm not quite there yet, I'm still hitting the road and the airways, often with paints and canvas in the car. Come ride along with me in future blogs as I reveal some of the adventures and misadventures of my journeys, what I saw, and what inspired new works for me to paint. I'd love your company.